Tell us about the Turkey Creek Warsaw RV park project, how'd that go?
Well, what we did was the excavation Warsaw MO which consisted of leveling off a pad with the dozer big enough to put in 12 RV spots for Rob Schnack down on Lake of the Ozarks. He had us level out some spots by the little stream down at the bottom of the hill and two spots across the drive in the woods.  The Second stage was to install sewer lines to the new RV sites and tie into the septic system that had already been built by the previous owner in preparation for the expansion. We ran lines to all the individual sites and caped the lines. 
The Third stage was to install the hydrants for the water hook ups at all the new RV sites.  Then we installed the  electrical hookups at all the sites. After that we laid all the gravel In for the RV's to park on. It was on a hillside, so it was really interesting, but it worked out it  wasn't too big a deal.  And we were able to save him money by tying into an existing system. And then down at the bottom, we put in more sites to add four more sites. He wanted some down there because it has a little stream near it with trees. They are really nice premium spots.  Those four sites were where everyone wanted to be.  If I had a RV that's where I would want it.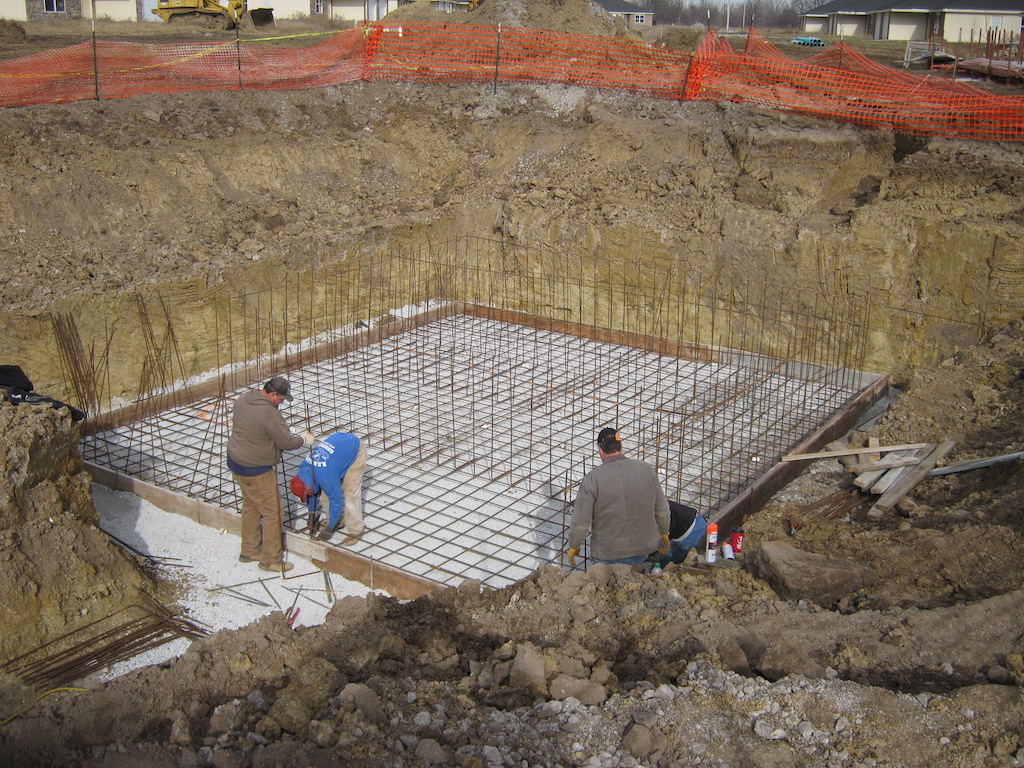 When your guys put in the water lines up the Hill did all those rocks give you any trouble. I mean that seems like it would have been very difficult.
No, it wasn't too bad. W%MCEPASTEBIN%r or anything, since we have really good equipment that has good spec's on bucket breakout force ext. So that helped a lot because that just saved Rob money Even with using the more difficult spot.  It is pretty and but it was kind of interesting because it was pretty steep. So down there, everything is clay and rock. I mean, that's just the way it is, but no, we didn't have any issues with that since we buy the best equipment.  Excavation Warsaw MO projects are always made more difficult due to the rocky ground.
Do you have any problems with water pressure towards the top of the Hill?
At first we did, but part of it was because there was some stuff wrong with the wellhead for the excavation Warsaw MO. But we got all those resolved, but as far as elevation differences, it wasn't too bad for there.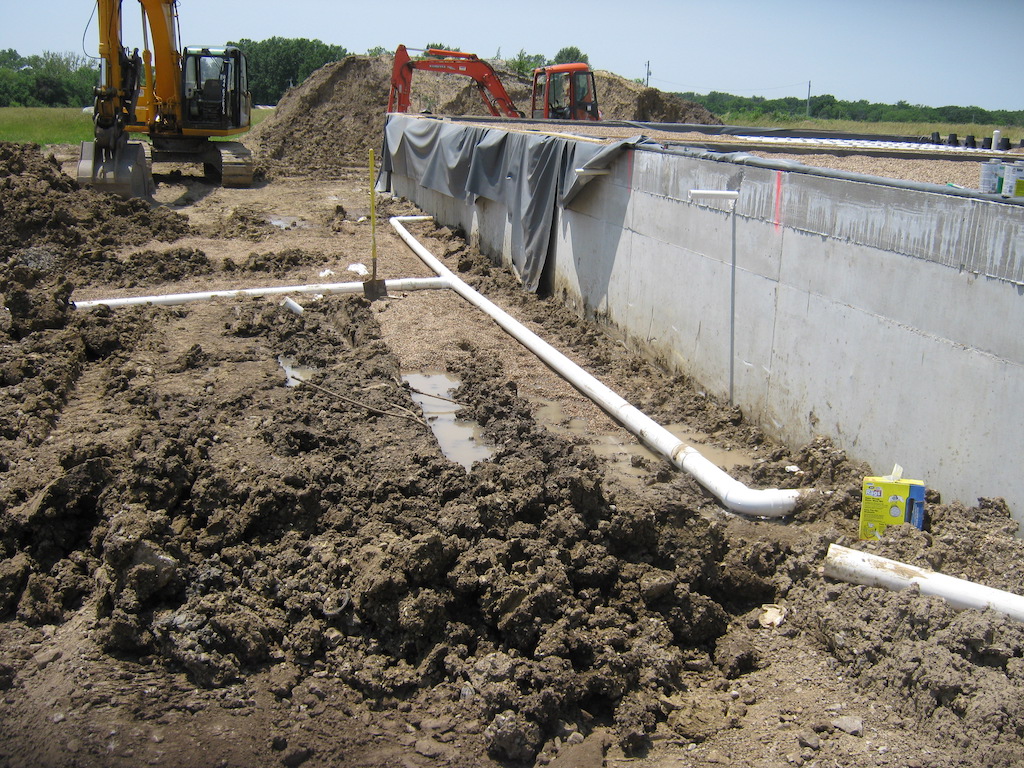 Do you have to put in any kind of lift station for the excavation Warsaw MO?
Now, the sites we had just enough grade to make everything work. As far as the sewer, it was pretty tight on the lower spots, but it worked out really well. The water line worked out just fine. Even though we had to cross the creek it all worked out pretty good.
Did you do any drainage work for this?
Yeah, we had to do a little bit to make it to where the water went around the top RV spots and the bottom RV spot's weren't being flooded. This amounted to redoing some ditches and slopes with some culverts in our erosion control measures to get everything to work correctly.
Did you have problems with the road as far as it washing away or anything?
A little bit, but that sort of thing is always an issue in that area. We had a couple of torrential downpours that year so that did complicate things but we got the problems solved with no real problems. Mostly by putting in some large rock to stop the erosion where the water was moving so fast that it was cutting down near the roads. The steep grades make excavation Warsaw MO more challenging to say the least.
So you have since then added more spots, correct?
Ya that's right we have added more sites In fact we added a whole new addition with ist
own treatment system and everything. Talk about premium sites. These are those as far as looks. They are the best in Warsaw. This was one of our most creative projects ever, there were over 20 sites on this system. Very pretty area with nice RV sites worth the extra difficulty getting the sites in there. We are very satisfied with the results of this excavation in Warsaw Missouri even with the difficulties.
So what were some of these extra difficulties?
Well for one was the elevation differences between the bottom of the hill and the top where the last RV site was. This made it challenging to get the current water system to push the water up there and maintain water pressure when the people at the lower sites are using water. Also to maintain the beauty of the area we were very selective of how many trees were removed with the steep hill and the tight constraints created by protecting as many trees as possible made the project more difficult.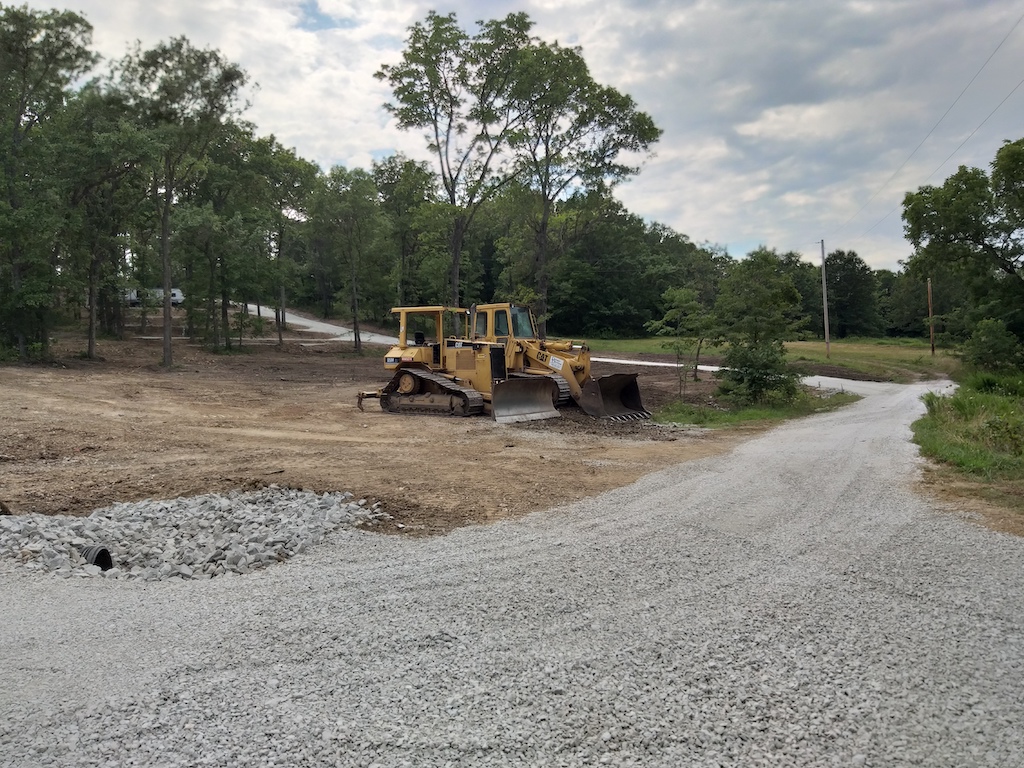 Was there anything else that made this excavation in Warsaw Missouri more difficult?
Yes, there is alot of rock on that hill and in the area in general making excavation Warsaw MO more difficult than other areas. We had to use our breaker quite a bit, putting in the utilities for the sites and of course then you have to replace that rock with soil when backfilling you can't just put all that rock back in the ditch. So you have to try and integrate it into the grading which can be quite challenging to get the final result to look good. We didn't have any trouble doing this since we have a lot of experience doing excavation in Warsaw Missouri, it just made it take longer.
Have you done other excavation Warsaw MO projects?
Yeah, that's right we have done many projects in Warsaw. We installed a lift station for a swimming pool for the city or Warsaw and many other projects of varying types in Warsaw Missouri A lot. I really couldn't tell you. It's at least probably a thousand, but I'm not really sure we've done anything and everything. If it comes to dirt, work, excavation, custom bulldozing, anything like that, or underground utilities, we pretty much do it or have done it. We do everything from small systems to great big ones and everything in between anything that has to do. We do them from a residential individual house to a giant one that takes care of entire subdivisions.