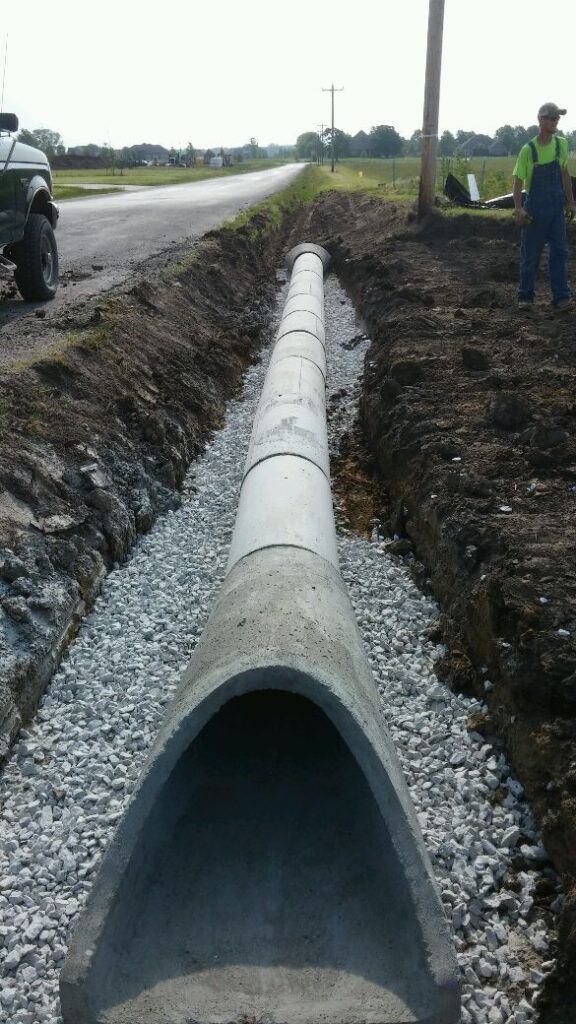 When you're looking for an excavation Calhoun MO company that can really help you, make sure to take the time to learn more about us. This is important because we want to provide you with an experience that actually gets you what you're looking for. This can range from everything from bulldozing to septic tank installation and backyard excavation, we got it all covered for you. What's most important to us is that our customers know that we are there to help them with what they're looking for and can really provide them with high-quality and a reasonable price.
Highest Rated & Most Reviewed
Something that immediately sets us apart here at Dittmer Ditching is that we are actually the highest rated and most reviewed excavation Calhoun MO company in Missouri. Go ahead and look it up yourself. We have over 80 5-star reviews on Google that you can read. These are from customers who have taken the time to talk about their experience with us so that you could make an educated decision on working with us, accepting our quote, or help you understand how it is we serve our customers. These are important things that we want to make sure we help our customers through, we understand that if it's not for the great feedback from our customers that we would no longer be in business. This is something that we are very intentional about because it's the only way to stay in business and serve customers the way they need to be served. So it never hurts to do a little extra research to build your confidence that we are the excavation Calhoun MO company who's going to help you get what you need and have it done the right way.
On the flipside the typical excavation Calhoun MO company doesn't have very many reviews at all and does a very poor job at making sure the customer is actually satisfied. These companies may have a handful of reviews at most, most of which aren't expressing major satisfaction. Typically customers don't feel compelled to leave a review if all that they have was what they expected. Our customers leave reviews because we always go above and beyond their expectations and do all that we can to make sure that they're really satisfied before we're done with the job.
Septic Systems
Not only are we a great excavation Calhoun MO company but we also can help you with your septic system. We've been in business for over 60 years, which means there's a big chance we know what we're doing and there's really no challenge that we haven't faced before. Our installers are well experienced, licensed and qualified. So if you need a septic system installation please give us a call and would love to walk you through our process and make sure that you can get an estimate for your installation sooner than later.
However it is important to make sure to get your septic system well-maintained. This is something that can cost you a lot if you let it go by the wayside and forget to upkeep it. The tank should typically get pumped at least once every 2 to 5 years. Regular pumping can really make sure that it will extend the life of the system and make sure that issues are caught early on before they get any worse.
Expectations Set
It's very important to us that we set expectations with our customers from the get-go with your excavation Calhoun MO. This is something that we do because it's the only way to make sure that we can really minimize surprises as far as it is in our control. One important step that we offer here is that we make sure to offer you a price upfront before starting any work in explaining what that work would entail. As we go along if there's any discovery or anticipation of changes we make sure to keep our customers up-to-date so that they know all it is that we are doing and make sure that we can help them prepare for any adjustments if necessary. There are other excavation companies out there that simply start a job, get it going and then invoice the customer a few thousand dollars that they were not expecting to have to pay. The contractor will then shrug their shoulders, and ask them when they can pay up. This kind of behavior really leads to mistrust with many contractors. That's why we make sure that there is a clear expectation before we start any job and they know exactly what we're doing.
Communication
What our customers also really appreciate about the way that we operate is that we actually call our customers back. If you have questions or you're looking to reach us it won't be difficult. All you have to do is give us a call and if for some reason we are preoccupied we'd make sure to give you a call back as soon as we can. At the end of the day, with us he won't have to chase us down to ask us any questions about the project or what we're doing or when you'll get an estimate. We make sure to keep our customers up-to-date with every step of the process so that they know what's going on and we can minimize any kind of surprises. This really provides peace of mind to our customers knowing that we're not going to do a job halfway done, collect a deposit and just leave as soon as we feel like the job isn't worth it anymore. That's not the way we treat our customers and that's not the way any business should treat any customer. We've been around since 1959 for a reason, we listen to our customers, we do good work to make sure that things are being done beyond expectation and we always keep you up-to-date and charge a fair price. If you have any questions please give us a call and will be glad to help you soon.