Excavator Services Warsaw, MO & Surrounding Areas
Dittmer Ditching has the equipment and expertise to accomplish many different types of excavation clinton MO projects. As an excavation contractor we have to overcome a great deal of challenges and are capable of accomplishing many different tasks under adverse conditions. Over the years we have invested much into educating our personnel in the proper methods and new technologies for accomplishing many different types of excavation work. These investments have also helped to overcome one of the major challenges of excavation clinton MO, one that no one has any control over weather.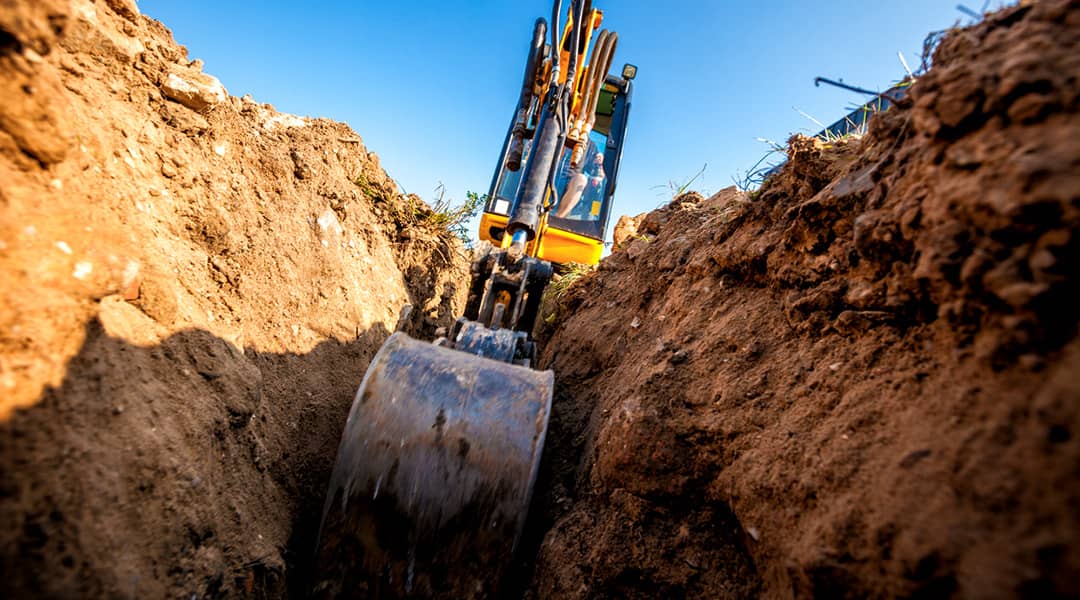 Weather always throws challenges at you during any job. Varying conditions of different sites can make a huge difference in how much the weather affects the excavation work. Winter time work can be very difficult due to freezing conditions and the fact that the ground takes a long time to dry out. In the spring it rains a lot so you are always trying to dodge the rain and trying to get the soil to dry out. Then when summer comes the soil dries out too fast to reach the compaction percentage required, so one has to wet it down or it won't reach compaction. Although every time of year has its challenges for excavation clinton MO, how severely it affects a project depends on the type of work, how the land lies, and the makeup of the soil. Weather is the number one challenge for an excavation job beginning with controlling soil erosion from rain.
Erosion Control
Erosion control typically starts out with a silt fence & a construction entrance at the beginning of the project. During the job the silt fence will need to be maintained and additional measures added as the project progresses. Ditch checks will be added as the project progresses on the site and the ground is shaped to direct the water. The final path of the water may require multiple ditch checks: how many depends on the job. If stormwater inlets are required then inlet protection will need to be in place.
Land Clearing
The next step would be to clear the land of anything that isn't staying. This could include demolition of an old building or just an old concrete driveway. We have rock breakers and excavators with thumbs to take care of any demolition needed. We sometimes get excavation clinton MO jobs that have a lot of trees to clear off the site first. We have several different pieces of equipment well suited to removing trees and stumps from the jobsite. We have taken out some very large trees usually on sites that are where houses were that are being turned into a retail location. Clearing could also be just some small brush and trees in a ditch where it was difficult to mow.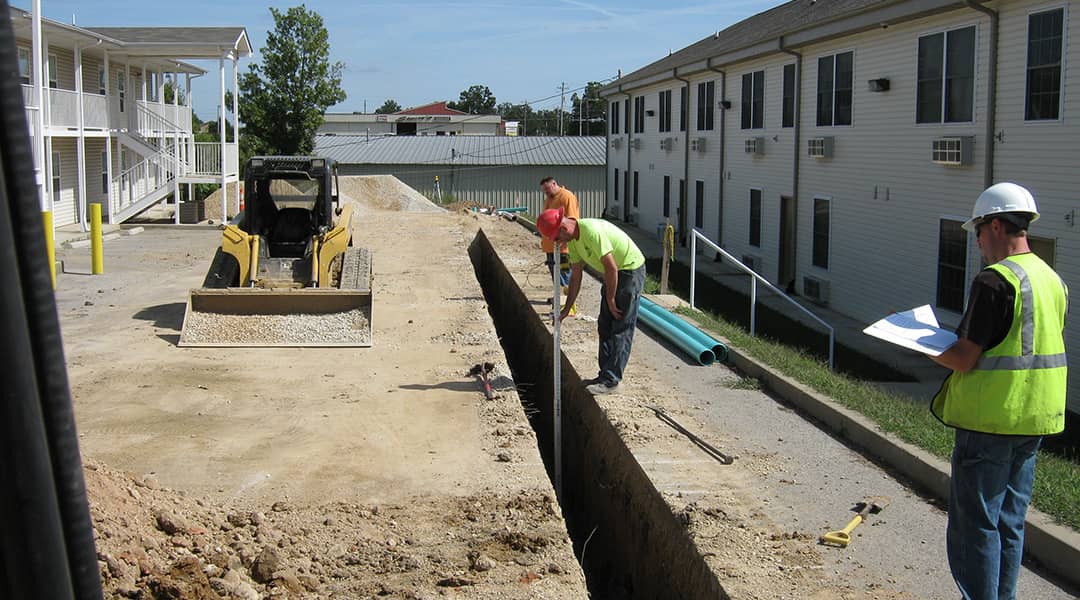 Site Utilities
Dittmer Ditching also has the capability to install the site utilities on the job. Many of our excavation contracts include water, sewer, and stormwater lines.
Every sight work job will have a domestic water line used for supplying sinks, toilets, showers, etc. with water. Many jobs will also have another meter for the irrigation lines. If not provided by the city the connection, setter, and pit could be a part of the site utilities package many times the excavation contractor will have this in their contract.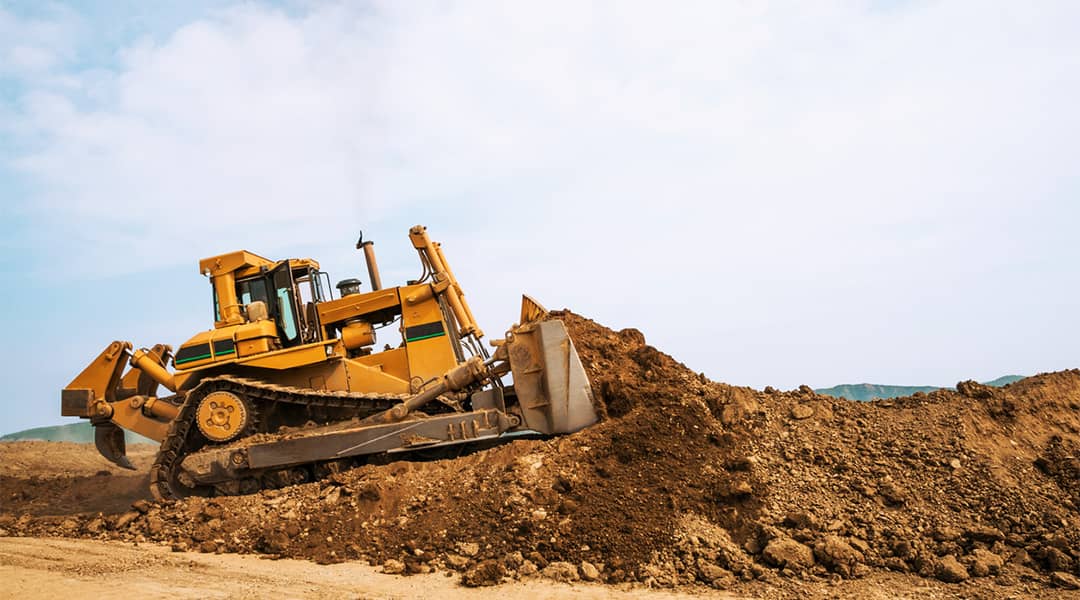 Site Utilities: Water Lines
Larger buildings will also have a fire line run into the building to supply the fire suppression system inside the building. Whether or not the building gets a fire line depends on the size of the building. We have installed fire lines for hotels, restaurants, and manufacturing buildings. They will typically be 6" lines connected and built exactly the same way we construct other water works projects using C900 pipe and mechanical fittings. They are typically tested at 200 psi using a hydrostatic test pump. This is the same way that public water supplies are constructed. We have all the necessary tools and equipment for constructing water works and fire lines.
Site Utilities: Sewer Lines
Every building will also need a sewer connection to either the city main or to an onsite septic system. City sewer connections have its own set of issues to deal with. Many city mains will be deep and require trench shoring. Our team is trained in trench safety, this is important to us to help keep everyone safe. With the correct shoring and good training, the risks can be mitigated. If the job requires a septic system, we have the training, licensing, equipment and experience to build any type of system no matter how complicated or large it is.
Some building sites will not have city sewer to the lot but with an extension of the main there will be. Many cities will require the developer to extend the main across the front or back of the lot whatever the case may be for that particular job. This will most likely be a part of the excavation clinton MO contractors bid. We have the equipment and experience to build sewer mains to DNR specifications as well.
Site Utilities: Stormwater Lines
Many excavation clinton MO projects for commercial buildings will have to have a storm water system. This usually consists of curb inlets and large pipes made of high-density polyethylene, corrugated metal pipe or reinforced concrete pipe to carry the water away. Sometimes downspout drains will be a part of this system generally constructed using HDPE or PVC. These days where the water is discharged from the pipe there will be an area that will allow the water to back up to reduce flooding from large amounts of rain.
Contact us today for excavator services in Warsaw, MO and the surrounding area.